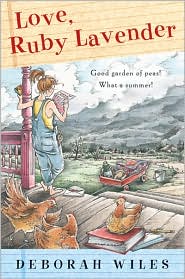 Years ago, I heard that this was a special book. When we recently received the
audio book
, narrated by Judith
Ivey
, I thought that it was time to give it my attention and I loved it! Ruby is a funny, plucky, imperfect nine year old with a loving and supportive grandma, a newly "liberated" small flock of hens, and a curly-haired,
tappity
-
shoed
enemy, Melba Jane. When Miss Eula (her grandma) decides to leave their town of
Halleluia
, Mississippi and take an open-ended vacation to Hawaii, Ruby thinks that her summer will be miserably boring. But, that is before she meets Dove, an aspiring anthropologist, prepares for new arrivals in the Pink Palace greenhouse, squares off with Melba and reports it all in her frequent letters to Miss Eula. I loved the memorable characters, the gently-handled theme of forgiveness and Ms.
Ivey's
amusing delivery of Ruby and company.