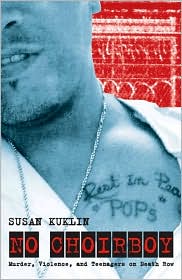 I have to confess that I didn't really want to read
No Choirboy.
It's dark subject matter, and I get plenty of that in the teen novels that I like to read. This is non-fiction, and I thought that it just might be too much, or else written with so much restraint that it would be dry and impersonal. But, it is on the reading list for a Minnesota reading camp that I'm counseling at this summer, so I took it home. I'm so glad that I did, because it is excellently done: compelling, heart wringing and ultimately hopeful.
The men in this book were accused of murder and sentenced to death when they were still teens. Each chapter gives voice to a different person. The focus is not on the crimes committed, but of life afterward. Three prisoners talk
about
their experiences, regrets and hopes for the future. One chapter is devoted to an executed man's family: the feelings of his mother and younger brother. Another is from the points of view of the siblings of a seventeen year old employee senselessly killed in a fast food restaurant robbery.
Overall, I found the stories interesting and moving. It put a human face on the issue. These people were not necessarily given fair trials. Some had no criminal records and were successful in school and life prior to their crimes. In prison they try to do more than just survive. I was especially impressed with prisoners Roy and Nanon trying to grow and improve themselves as much as the system allows.
Even if this is not your typically reading material please give it a look, especially if you work with teens. It's worth the time.